CYCLONE INSECTICIDE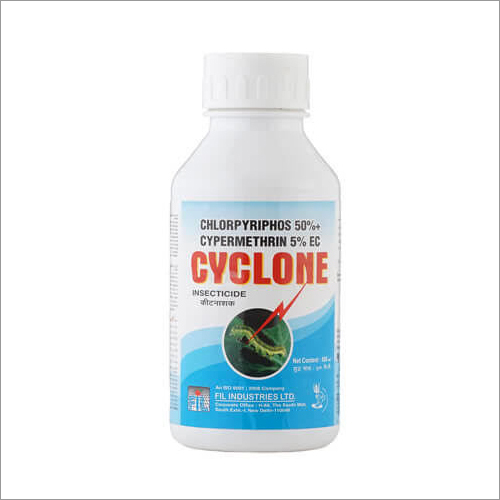 CYCLONE INSECTICIDE
Price And Quantity
Bottle/Bottles

120.00 - 141.00 INR
Product Specifications
98% 99% 100%

Agriculture, Pest Control
100ML , 250 ML, 500 ML , 1 L

Liquid
Product Description
CYCLONE INSECTICIDE is a potent insect control product that combines the strength of active ingredients to combat and eradicate various insects. It is designed to provide immediate knockdown and residual control, ensuring effective pest elimination. CYCLONE comes in a convenient spray formulation, allowing for easy and precise application. This versatile insecticide can be used both indoors and outdoors, making it suitable for controlling pests in residential areas, commercial spaces, agricultural settings, and other environments.
FAQ:
Q: What pests can CYCLONE INSECTICIDE control?
A: CYCLONE INSECTICIDE is effective against a broad spectrum of pests, including mosquitoes, flies, ants, roaches, spiders, bed bugs, fleas, ticks, and many others. It provides reliable control over both crawling and flying insects, making it a versatile solution for various pest infestations. Whether you're dealing with pests indoors or outdoors, CYCLONE can help eliminate them and provide long-lasting protection.
Q: How does CYCLONE INSECTICIDE work?
A: CYCLONE INSECTICIDE works by targeting the nervous systems of insects, disrupting their normal functions and leading to their demise. The active ingredients in CYCLONE act as neurotoxins, affecting the insects' ability to move, feed, and reproduce. Upon contact or ingestion, the insecticide quickly delivers its lethal effects, resulting in rapid knockdown and control of the targeted pests.
Q: Is CYCLONE INSECTICIDE safe for use around humans and pets?
A: CYCLONE INSECTICIDE should be used with caution and in accordance with the instructions provided by the manufacturer. While it is formulated to be effective against pests, it is essential to minimize direct contact with humans and pets during and immediately after application. It is advisable to keep children and pets away from treated areas until the insecticide has dried or as recommended on the product label. If used as directed, CYCLONE can be used safely and effectively in pest control operations.
Q: How should I apply CYCLONE INSECTICIDE?
A: To achieve optimal results, follow the application instructions provided by the manufacturer. Shake the CYCLONE container well before use and hold it at arm's length. Apply the insecticide in a sweeping motion, ensuring even coverage of the targeted areas where pests are present or likely to occur. Pay attention to cracks, crevices, entry points, and areas where insects tend to hide or congregate. It is recommended to read the product label carefully and use appropriate protective equipment during application.
Trade Information
Cash on Delivery (COD), Cash in Advance (CID), Cash Advance (CA)

Contact us for information regarding our sample policy
100 ML, 250 ML, 500 ML, 1 LTR

All India