AGRISIA HUMIC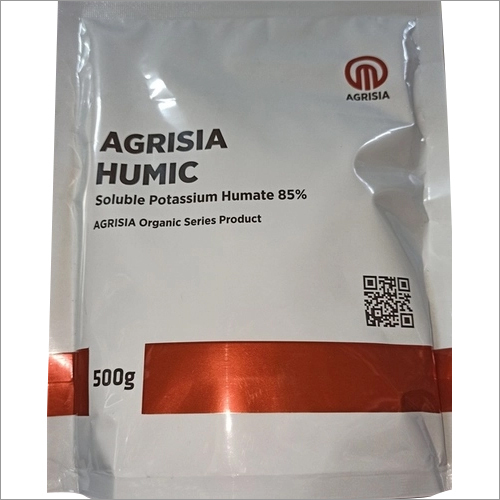 AGRISIA HUMIC
Price And Quantity
Pack/Packs

400.00 - 500.00 INR
Product Specifications
Organic Fertilizer

Humic Acid
Product Description
AGRISIA HUMIC is a premium organic soil amendment designed to optimize soil conditions for healthy plant growth. It contains concentrated humic substances sourced from natural materials, such as decomposed organic matter. Humic substances are known for their ability to enhance soil fertility, improve nutrient availability, and support overall plant vigor. AGRISIA HUMIC can be used in various agricultural settings, including farms, gardens, nurseries, and greenhouses. It is easy to apply and can be incorporated into the soil during planting or applied as a top dressing.
FAQ:
Q: What are humic substances, and why are they beneficial for the soil?
A: Humic substances are organic compounds that naturally occur in soil as a result of the decomposition of organic matter. They consist of humic acid, fulvic acid, and humin. Humic substances have numerous benefits for the soil, such as improving soil structure, increasing water retention, promoting nutrient availability, enhancing microbial activity, and reducing nutrient leaching. These properties contribute to overall soil health and support robust plant growth.
Q: How does AGRISIA HUMIC improve soil moisture retention?
A: AGRISIA HUMIC helps improve soil moisture retention by enhancing the soil's water-holding capacity. The humic substances in the product act as natural soil conditioners, increasing the soil's ability to retain water and reducing water runoff. This helps to maintain a more consistent moisture level in the root zone, reducing the frequency of irrigation and minimizing water stress for plants.
Q: Can AGRISIA HUMIC be used in organic farming?
A: Yes, AGRISIA HUMIC is suitable for organic farming practices. It is made from natural sources and does not contain any synthetic chemicals or harmful additives. The product meets organic farming standards and can be used as an approved soil amendment in organic production systems.
Q: How does AGRISIA HUMIC improve nutrient availability?
A: The humic substances present in AGRISIA HUMIC play a vital role in improving nutrient availability to plants. They have a high cation exchange capacity (CEC), allowing them to attract and hold onto essential nutrients in the soil, preventing leaching and making them more accessible to plant roots. This promotes better nutrient uptake and utilization by plants, leading to improved growth, development, and yield.
Trade Information
Cash on Delivery (COD), Cash in Advance (CID), Cash Advance (CA)

Contact us for information regarding our sample policy
Contact Us
Shop No.- 33, Shri Shvaji Chatrapati, Market Yard, Rajgurunagar, Maharashtra, 410505, India
Phone :+918045479624